On the Alpine route with one of the best cars of 2017: RAY MASSEY gets behind the wheel of the reborn Alpine brand's eagerly-awaited A110
Prices for the first-edition Alpine A110s range from £50,000 to £52,000 but later models will cost £45,000

The A110 is a 2-seat, mid-engined, rear-wheel drive sports car with a 1.8-litre turbocharged 4-cylinder motor

It can accelerate from 0 to 62mph in 4.5 seconds and up to a top speed electronically restricted to 156mph

We tried the car on the sweeping roads in the mountains of southern France and on track near Marseilles
Fans of traditional two-seater compact sports cars rejoice.
Just in time for Christmas, there's a new kid on the block – or rather back on the block - the Alpine A110 and after an absence of more than two decades the brand is bringing back smiles for motorists who just love the true joy of driving.
And as the first real snows of winter blow in, how fitting that it's called Alpine and is designed for fun and frolics on mountain roads.
I took to the wheel of the new A110 to see if it really has what it takes to dethrone the Porsche Cayman as the best two-up coupe on the market today.
Does the A110 get an A+? Daily Mail motoring editor Ray Massey spent some time at the wheel of Alpine's new two-seat sports car in the not-so-sunny South of France
For most younger drivers outside of France, the Alpine is probably the most exciting car you've never heard of: like the late Johnny Hallyday, it's a much-loved domestic institution.
So barring a hard-core of sporting enthusiasts and car nuts, it's unlikely that memory of the original Alpine will evoke the same emotional tug at the heart-strings in Britain that it clearly does in its native France.
But if they play their cards right, the creators of the new 21st century reincarnation of this lightweight sports coupe should cause a similar stirring in Blighty with a little belter of a car that will export well to the UK and beyond.
French parent company Renault may have a mountain to climb in seeking to relaunch not only the Alpine brand - pronounced 'Al-peen' - but also the first new car to bear its badge for a generation: the Alpine A110.
But for those who think fondly of Britain's sporty MGs and Lotus Elan, it delivers similar real engagement for the driver that should even make Germany's Porsche feel a little twitchy.
But the Cayman isn't the only car under threat from this svelte French number - the Abarth 124 Spider, Alfa Romeo 4C, Audi TT RS and Jaguar F-Type are all on Alpine's hit list.
I took the reborn Alpine A110 for a spin in the mountains and on the track near Aix-en-Provence, in southern France, to discover if it's more than an equal to its competition. And as if inspired by the name, the weather produced some unseasonal frost and snow, making conditions wetter, colder and more slippery than expected.
The French brand Alpine - pronounced 'Al-peen' - has been reborn by parent company Renault after two decades
The mid-engined, rear-wheel drive Alpine A110 has a 1.8-litre 4-cylinder turbocharged petrol engine developing 252hp
Ray Massey took the reborn Alpine A110 for a spin in the mountains and on the track near Aix-en-Provence in Southern France
The two-seater Alpine coupe really is a car to put a smile on your face by making driving fun again.
It makes no pretence of being the fastest nor the most luxurious sporty coupe. But it does aim to please both on the road and on the track and is the perfect antidote to the cult of self-driving autonomous cars.
It's designed and engineered to be a delight on twisty mountain and country roads and on the track, but also a comfortable everyday coupe
The mid-engined, rear-wheel drive Alpine A110 is powered by a 1.8 litre 4-cylinder turbocharged petrol engine that develops a meaty 252 horse-power, linked to a 7-speed dual clutch automatic gearbox with manual paddles on the chunky steering wheel.
That helps it accelerate from rest to 62mph in just 4.5 seconds up to a top speed electronically restricted to 156mph. There's no manual but the paddles do the trick.
Drive the new Alpine around France and, when you pull in, you are suddenly accosted by fans of a certain age with a dreamy faraway look on their face.
It happened to me when I stopped randomly at a kiosk for a quick coffee in Provence. Jean-Claude told me he had owned an original Alpine and reluctantly sold it – an act he regretted to this day. Overcome with emotion when I let him sit inside, he was lost in a total reverie.
The svelte two-seater can accelerate to 62mph in just 4.5 seconds and up to a top speed electronically restricted to 156mph
The Alpine brand might not be all that well known here in the UK, but in France it's an iconic badge that demands plenty of attention from locals
The design is a modern twist on the original Alpine A110 Berlinette from 1962 to 1977. Slide the image to see how similar the two cars are
The svelte retro styling is a contemporary update of the lovely Alpine A110 Berlinette from 1962 to 1977. It's also flying the Flag for France and has the Tricolore displayed on the rear pillars.
Its exterior aerodynamics include a flat underbody and a rear diffuser which means there's no need for a rear spoiler to keep it glued to the tarmac.
Will it fit in my garage?
A
lpine A110 Premiere Edition
Engine:

1,796cc 4 cylinder 16v turbocharged
Fuel consumption:

46.3mpg (average)
Gears:

7-speed dual clutch automatic (with manual paddles)
Boot capacity:

96 litres (front), 100 litres (rear)
Tyres:

18 inch Michelin Pilot Sport 4 Air inlets around the front bumper create what Alpine calls a 'curtain' around the front wheels, which are shod with relatively narrow tyres, to reduce drag and improve airflow.
The reborn French brand has sought successfully to capitalise on the same core elements that made the original Alpine successful in the 1960s and '70s - compact size, lightweight aluminium platform and a low centre of gravity.
It's designed and engineered to be a delight on twisty mountain and country roads and on the track, but also a comfortable everyday coupe that, it says, 'allows drivers to feel at one with the car' and to be 'true to the original's DNA'. And they've succeeded in creating an agile and exciting car that delivers real pleasure.
Weight has been shaved off at every opportunity. The two specially created and supportive one-piece Sabelt sports seats weigh 13.1kg each. And incorporating the parking brake into the main rear calliper saves 2.5kg.
Fuel consumption is kept to an average 46.3mpg with pretty low CO2 emissions of 138g/km - not bad for a sports car that can clock 62mph in less than five seconds.
Suspension has been specially designed to keep the maximum amount of rubber from the tyres rooted to the ground, even on tight curves.
As the car rolls during cornering, the double-wishbone suspension rolls with it to keep the bottom of each tyre flat to the road surface, thus boosting grip and reducing the risk of a slide.
A spokesman explained: 'The harder the car corners, the more firmly the tyres are pressed into the road surface and the more grip they generate.
'We don't have to fight the roll of the car in cornering, which means we can use relatively light springs and anti-roll bars.
'That means the car rides really well even on a very bumpy road. The sensation in cornering is like that of carving on skis- the harder you push, the more grip you have.
'This makes the car fun and rewarding to drive even at low and medium speeds for drivers at all levels of ability.'
The plush interior is adorned with tricolore flags and beautifully stitched seats and interior panels
Nothing says sports car with rally heritage more than a steering wheel with a dead-centre stripe to inform the driver when the front wheel are straight as they're gliding across a gravel surface sideways
The fit and finish of the Alpine interior is of an extremely high standard - this is by no means a cheap and cheerful French car
Getting in and out is a good workout on the abs for many of the likely customers' age profile.
It's a cosy cockpit style interior with loads of leg room and space even for wearing a helmet thanks to the double-bubble roof.
A floating divide between the seats has a small space for plugging in and charging up a phone or holding some loose change.
You won't want to over-pack but the compact coupe will take more than a tooth-brush.
Packed side-by-side the 100-litre storage space in front will take a pair of modestly-sized airline carry-on cases, while the smaller 90-litre space under the bonnet will cater for two full-face helmets and a small overnight bag.
Fire up the engine and then you choose one of three driving modes – Normal, Sport and Track. In normal mode it's a pretty relaxed but still spirited drive. Driver aids include anti-lock ABS, traction and stability control.
Move up to Sport and you feel the throttle response, gear-shift, and steering physically sharpen, as well as hear a gutsy and satisfying rumble from the exhaust.
It's a more exciting and dynamic drive and great fun in this setting, with the go-cart style of a MINI or Caterham 7.
With each setting, the 10-inch digital dashboard screen also changes so that, in Sport and Track modes the rev counter and gear display are more prominent.
Ray Massey said the double-bubble roof provided enough headroom for taller drivers, even if wearing a race helmet on track
Our man compared the driving dynamics to that of a MINI or Caterham 7 - there are few better handling affordable road cars on the planet than those two
Better track drivers on the launch gave glowing reports about the balance and overall performance of the new Alpine
Out on a private racing track near Marseilles there was the chance to try the Track mode that allows more wheel slip. The electronic stability control can also be disabled.
Frankly, I'm not a racing driver but even I got a kick going around what was quite a tight and slippery circuit. But better track drivers than I am were positively beside themselves with joy.
Better track drivers than I am were positively beside themselves with joy
Priced from £50,000 to £52,000 (depending on exchange rate), just 1,955 of the initial Alpine Premiere Edition models are being built and they sold out within five days after reservation applications were allocated via a mobile app.
The number echoes the year – 1955 - that the firm was founded by Renault car-dealer Jean Redele – at the firm's original boutique factory in Dieppe which he created 1969. Renault has used the factory for small volume racing-inspired cars since it pulled the plug on Alpine in 1995.
Main production - in trim levels Pure and Legende costing from around £45,000 – is to follow from the middle of the year. Sadly bosses insist there won't be an open-topped cabriolet version of this car.
Prices for the at-launch 'Premiere Edition' cars range from £50,000 to £52,000, though the models available after will be more affordable, ringing in at around £45,000
The new Alpine A110 is a fitting tribute to the original and is a worthy rival to the Porsche 718 Cayman - as long as buyers give it a chance
Everything about the new A110 design harks back to the car it is based on , even the headlight arrangement is replicated
The new A110's vim, verve, and nimbleness on the track reflects Alpine's racing and motorsport pedigree, which it aims to emulate, including winning the 1973 World Rally Championship and the 1978 Le Mans 24-hour epic.
The project to revive Alpine was announced in 2012, with a prototype unveiled in Monaco in 2016 ahead of the current first car making its motor show debut earlier this year.
Seven Alpine dealerships are opening in the UK to sell right-hand drive models, including London, Manchester, Birmingham and Scotland.
Alpine's chief test and development driver Laurent Hurgon said: 'You don't have to be a racing driver to enjoy the A110 and you don't have to drive very quickly for it to be thrilling. It is also very comfortable to drive every day.
'It's a road car, but because it is so light and agile it is very good to drive on the track as well. You can use this car to drive to work, to have fun on some mountain roads and also on the circuit.'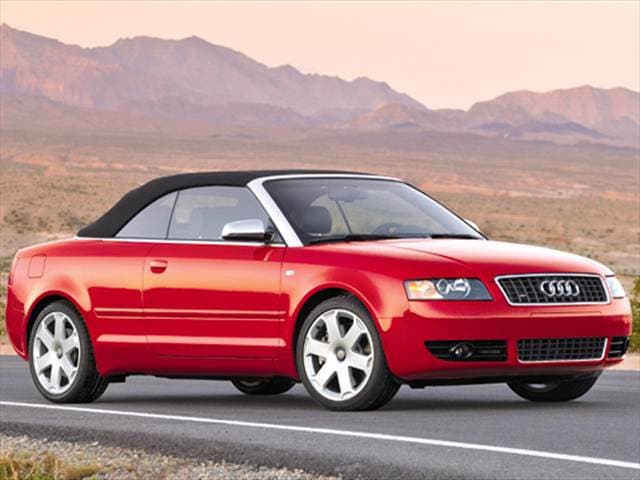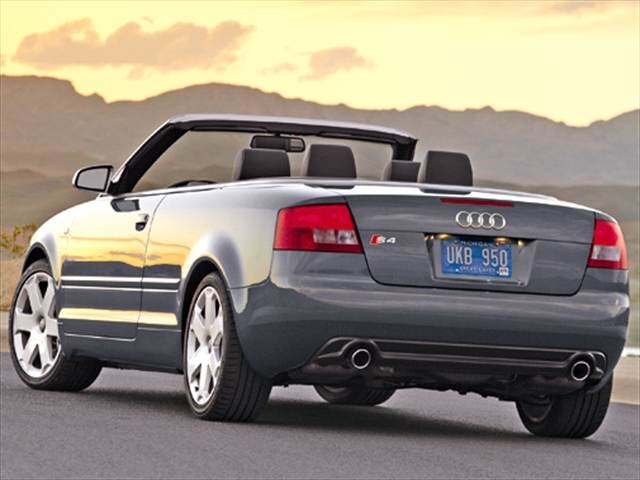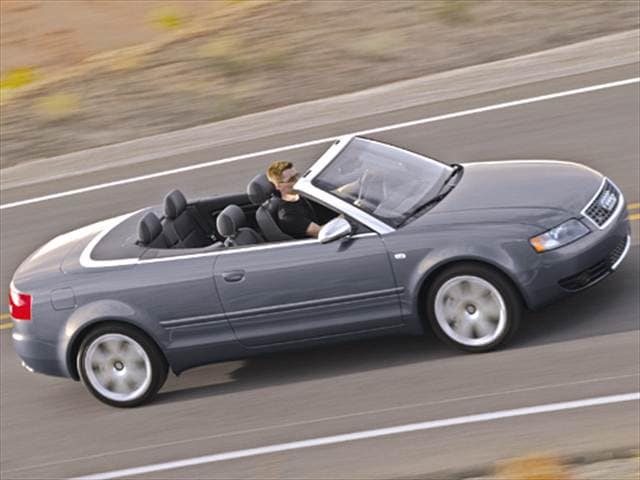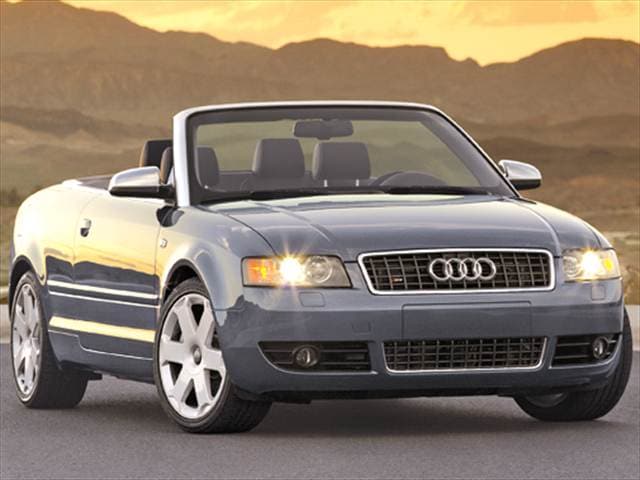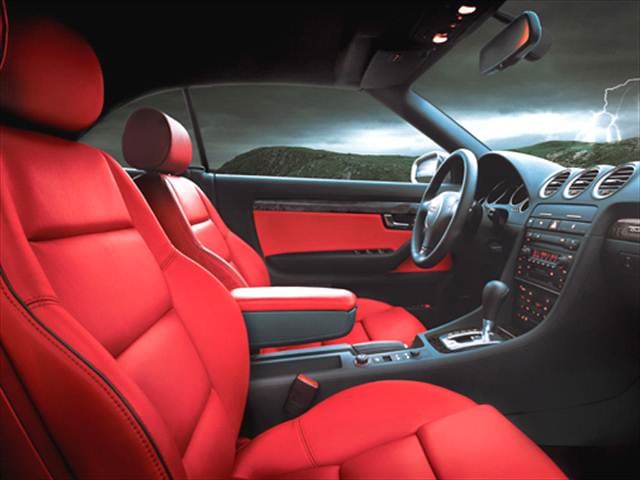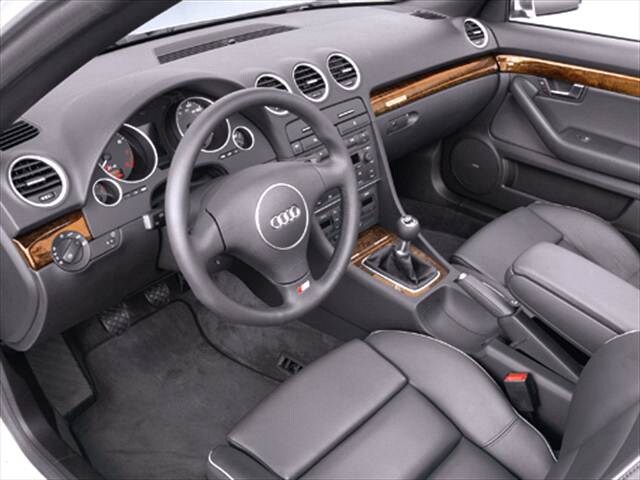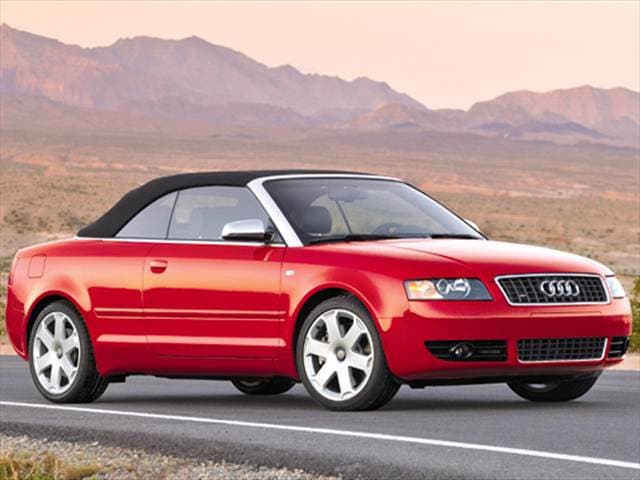 The transformation from sedan to convertible has, however, added 309 power-sapping pounds to the 3864-pound sedan. There's a multitude of guilty parties, but the main culprits are the steel body reinforcements that must attend a convertible and the heavy, motor-operated softtop. There's also a pair of protective steel hoops that automatically extend from the rear bulkhead if sensors detect an accident.
The extra weight spells softer performance. The sprint to 60 mph took 5.8 seconds-0.8 second slower than the sedan. The quarter-mile time worsened from 13.6 seconds at 103 mph to 14.3 seconds at 98 mph. There was one major advance: The S4 sedan has a governed top speed of 130 mph, and although Audi says the S4 cabriolet has a 155-mph top-speed limiter, our test car ran to 162 before the limiter hollered.
There are two direct competitors to the S4 cab: the $57,295 BMW M3 convertible and the $81,970 Mercedes-Benz CLK55 AMG cabriolet. We've only tested the quicker Bimmer, which gets to 60 in 5.1 seconds and turns the quarter in 13.7 seconds at 104 mph.
The S4's straight-line speed feels plenty quick, though, and is about equal to that of a pair of sharp roadsters, the Porsche
Boxster
and the Nissan
350Z
. But those sports don't offer four-wheel drive, a feature that's standard on the S4 with either the standard six-speed manual or the $1150 six-speed automatic.
What's neat about four-wheel drive--other than its all-weather traction--is how smoothly and transparently it transfers engine power to the road. Even when hooked to the powerful and responsive V-8, there's never a hint of wheelspin, never any drama when pulling into traffic, and little doubt you'll make it up your driveway on that snowy night. Since the system is always engaged, there are no buttons to push or levers to throw.
The whole car has a buttery smoothness that's satisfying in some ways but a little disappointing in others. The steering comes to mind. It has variable assist that makes the effort build with speed. At all times the steering has a frictionless, silky feel that at first seems great, but after a few corners, you realize there's simply not a lot of info from the tires making its way to your fingertips.
Then there's the handling. It's not quite as lively as what we remember from the sedan, probably due to the weight gain, but the cabrio is fairly nimble and wonderfully secure. Around the skidpad, the cabriolet pulled 0.86 g, a tick better than the sedan's 0.85. Although we never found a way to upset this chassis, the suspension is on the stiff side, and over rough roads it has a tendency to induce some body quivers.
Nor could we overheat the brakes and reduce their effectiveness. Stopping from 70 mph required 174 feet--six longer than the sedan. But in five successive stops, there was only a four-foot difference from best to worst, and the pedal had the same firmness and travel throughout. These are brakes as they're meant to be--consistent and always on call.
Perhaps the best part is the little switch on the center console that calls the top to action. In 23 seconds, a series of motors and hydraulic actuators first drop the windows a half-inch, unlock the top from the windshield frame, raise the hard boot, fold the top into the well, and then finally lower the boot. The three-layer cloth top does a commendable job of keeping the interior quiet, and when it's lowered, wind buffeting isn't really an issue, especially with the optional wind blocker that's bundled in the $875 Premium package.
There are a lot of clever details that you'd expect in a $56,000 car but aren't always there. For example, the catches where the top attaches are located atop the header, so you don't have to look at them when the top is down. There's a switch on the driver's door that operates all four windows at once, and you can operate the windows and top by inserting and turning the key in the door lock. Although the trunk's 10 cubic feet are reduced to 8 when the top is down, there's a pass-through bag to the rear seats that Audi says is big enough to accommodate a set of golf clubs and will keep dirty items from soiling the interior.
In the complaint department, the red digital readouts for the automatic climate control and radio are stunning at night but unreadable in direct sunlight. And although the manual transmission has a nice feel to it, the clutch operation could be improved. It engages abruptly, and the throttle is sensitive, so driving smoothly requires concentration.
As for those handy rear seats, they're smaller than those in the sedan by eight cubic feet (31 total) and aren't large enough to comfortably fit adults. But the kids will love going along, and there are two sets of anchor points for infant and toddler seats. So go ahead and bring the kids. After all, isn't that the joy of parenthood?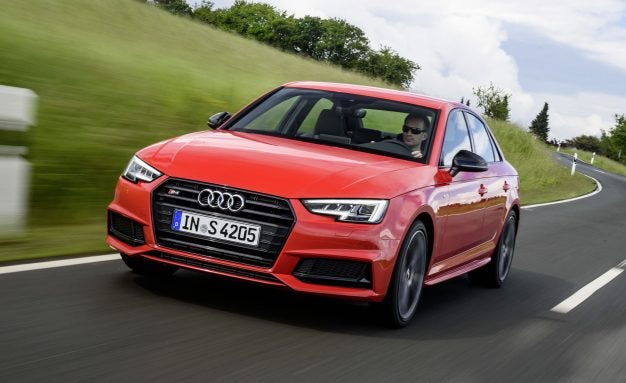 M
AYBACH MERCEDES FOR LESS THAN $ 50,000
You might find this strange, but super luxury Maybach, an epitome of the over-the-top sedan is one of the cars with the worst depreciation over the years. Remember back in 2006, the base price of a Maybach 57 was almost $400,000 and it could go up to half million dollars for the 62 S model. It was a crazy amount of money then and thanks to the magic of depreciation, Maybachs today cost around $50,000! You can even go lower for examples with more miles, but for a price of nicely optioned mid-size SUV, you can have one of the most prestigious cars in the world.
Interior:
Labrador Anthracite
| | |
| --- | --- |
| Mileage | 48,071 |
| Body Style | Sedan |
| Drive Type | 2 wheel drive - rear |
| Engine | 12-Cylinder |
| Transmission | 5-Speed Shiftable Automatic |
| | |
| --- | --- |
| Fuel | Gasoline |
| MPG | 12 City / 17 Highway |
| Stock # | 001061 |
| VIN | WDBVF78J95A001061 |
| ATC Car ID | AT-1C0A4E69 |
Safety Recall Information
Some vehicles may be subject to manufacturer safety recalls. See if there are any open safety recalls for this vehicle. This does not include non-safety recalls. Recently announced safety recalls may not yet be posted and there may be a delay between the time a repair is made and before it is reported or posted to the website. Before purchasing, be sure to ask the dealer for an up-to-date status on any recalls.
Check Safety Recall Status
---
Features
**Clean Carfax**
19" x 8" Aluminum Alloy Wheels
2.82 Axle Ratio
21 Speakers
4-Wheel Disc Brakes
A/V remote
ABS brakes
AM/FM radio
AM/FM w/6-Disc CD Changer/DVD/Dolby Surround Sound
Adaptive suspension
View all features
---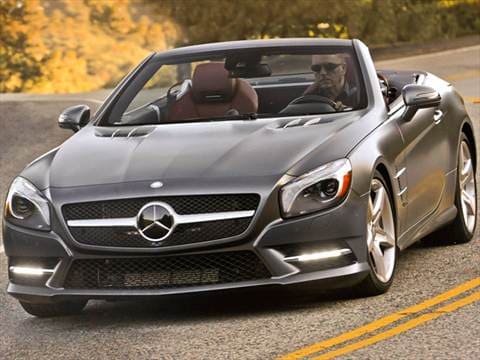 About Mercedes-Benz SL-Class
Driving a Mercedes-Benz SL-Class doesn't just mean you've made it. It means you want the world to know you've made it. As classic a status symbol as a Rolex watch or Fendi bag, Mercedes-Benz nonetheless lowers the bar for this kind of symbolism with the introduction of the SL400 for the 2015 model year. With a twin-turbo V6 engine, it gives up very little in performance compared to its V8 siblings, but costs more than $20,000 less. However, when even the "cheap" one is still nearly $85,000 to start, you're in rarefied air. Other cars like the Jaguar XK, Porsche 911 and BMW 6 Series all offer performance, panache and luxury for similar prices, yet none can match the prestige of this classic Mercedes-Benz.
Near

San Luis Obispo, CA

Mileage

83,573
Estimate My Monthly Payment
Check Availability on this vehicle and unlock these features.
Dealer Discount available

Get a full TruePrice Breakdown
Work with a trusted Dealer Rep
Check Availability
Get Your TruePrice
Included Features
Navigation System, Convertible HardTop, 8 Speakers, AM/FM radio, AM/FM Stereo w/Single In Dash CD, CD player, Remote CD player, Weather band radio, Air Conditioning, Automatic temperature control, Front dual zone A/C, HVAC memory, Rear window defroster, Head restraints memory, Memory seat, Power driver seat, Power steering, Power windows, Remote keyless entry, Steering wheel memory, Steering wheel mounted audio controls, Adaptive suspension, Auto-leveling suspension, Four wheel independent suspension, Speed-sensing steering, Traction control, 4-Wheel Disc Brakes, ABS brakes, Child-Seat-Sensing Airbag, Dual front impact airbags, Dual front side impact airbags, Emergency communication system, Integrated roll-over protection, Knee airbag, Occupant sensing airbag, Power adjustable front head restraints, Brake assist, Electronic Stability Control, Delay-off headlights, Front fog lights, Headlight cleaning, High intensity discharge headlights: Xenon, Rear fog lights, Panic alarm, Security system, Speed control, Auto-dimming door mirrors, Bumpers: body-color, Convertible roof wind blocker, Heated door mirrors, Power door mirrors, Turn signal indicator mirrors, Auto tilt-away steering wheel, Auto-dimming Rear-View mirror, Convertible roof lining, Driver door bin, Driver vanity mirror, Front reading lights, Garage door transmitter: Homelink, Genuine wood console insert, Genuine wood door panel insert, Illuminated entry, Leather Shift Knob, Leather steering wheel, Outside temperature display, Passenger vanity mirror, Power convertible roof, Tachometer, Telescoping steering wheel, Tilt steering wheel, Trip computer, Front Bucket Seats, Heated Front Bucket Seats, Heated front seats, Leather Seat Trim, Power passenger seat, Front Center Armrest w/Storage, Passenger door bin, Alloy wheels, Glass rear window, Rain sensing wipers, Variably intermittent wipers
Seller Notes
2003 Mercedes-Benz SL-Class SL500
Near

Corona, CA

Mileage

84,199
Estimate My Monthly Payment
Check Availability on this vehicle and unlock these features.
Get a full TruePrice Breakdown
Work with a trusted Dealer Rep
Check Availability
Get Your TruePrice
Included Features
Navigation System, Convertible HardTop, 8 Speakers, AM/FM radio, AM/FM Stereo w/Single In Dash CD, CD player, Remote CD player, Weather band radio, Air Conditioning, Automatic temperature control, Front dual zone A/C, HVAC memory, Rear window defroster, Head restraints memory, Memory seat, Power driver seat, Power steering, Power windows, Remote keyless entry, Steering wheel memory, Steering wheel mounted audio controls, Adaptive suspension, Auto-leveling suspension, Four wheel independent suspension, Speed-sensing steering, Traction control, 4-Wheel Disc Brakes, ABS brakes, Child-Seat-Sensing Airbag, Dual front impact airbags, Dual front side impact airbags, Emergency communication system, Integrated roll-over protection, Knee airbag, Occupant sensing airbag, Power adjustable front head restraints, Brake assist, Electronic Stability Control, Delay-off headlights, Front fog lights, Headlight cleaning, High intensity discharge headlights: Xenon, Rear fog lights, Panic alarm, Security system, Speed control, Auto-dimming door mirrors, Bumpers: body-color, Convertible roof wind blocker, Heated door mirrors, Power door mirrors, Turn signal indicator mirrors, Auto tilt-away steering wheel, Auto-dimming Rear-View mirror, Convertible roof lining, Driver door bin, Driver vanity mirror, Front reading lights, Garage door transmitter: HomeLink, Genuine wood console insert, Genuine wood door panel insert, Illuminated entry, Leather Shift Knob, Leather steering wheel, Outside temperature display, Passenger vanity mirror, Power convertible roof, Tachometer, Telescoping steering wheel, Tilt steering wheel, Trip computer, Front Bucket Seats, Heated Front Bucket Seats, Heated front seats, Leather Seat Trim, Power passenger seat, Front Center Armrest w/Storage, Passenger door bin, Alloy wheels, Glass rear window, Rain sensing wipers, Variably intermittent wipers
Seller Notes
2004 Mercedes-Benz SL-Class SL500
It's no secret that Audi's ultimate luxury sedan is a fast car, but the S8 Plus version of the A8 flagship has even more to offer. Powered by a twin-turbo V8 engine, it has 605 horsepower, and paired up with a sophisticated all-wheel drive system, this land barge can move as fast as a thoroughbred supercar. The 0-60 sprint takes just 3.3s, which is by all means proper supercar territor
The 30 Best Value Cars to Buy in 2017
Choosing the right vehicle for you and your family is a process that takes many factors into consideration. The right car, truck or SUV is one that's reliable and doesn't crush the budget you're working with. Educated car shoppers know that there is a thin line between a car that's great value and one that just wearing a low price tag.
A high-value vehicle will have a budget-friendly price tag, have above-average dependability and below average long-term ownership costs. Below are 30 vehicles that will offer value for the entire time you own them, without sacrificing on comfort, features or performance.
30. 2016 Chevrolet Traverse
The 2016 Chevy Traverse is considered the best large SUV for its price tag. Priced from $28,700, the Traverse is easy to drive with smooth handling and offers a great deal of space for cargo and passengers. It also gets 15 mpg city / 22 mpg highway.
29. 2016 BMW X1
The only 'ultimate driving machine' on this list, the BMW X1 shines in a sporty and luxurious way with precision handling and a powerful engine . For 2016 it is considered the best subcompact SUV for the money, with an MSRP of $34,800. It also gets 22 mpg city / 31mpg highway – fuel efficiency outperforming many of its competitors.
28. 2016 Acura MDX
The 2016 Acura MDX is easily the best luxury SUV for the price. It has impressive fuel economy (up to 20 city / 27 highway) and has proven to have low ownership costs. The MDX (from $43,015) also has 290 hp coming from a 3.5L engine and sharp handling – rare for a vehicle of its size.
27. 2016 Chevrolet Colorado
As pickup trucks become more economical and fuel efficient, they also become easier to buy. The Chevy Colorado is an example of this. The 2016 model is only $20,055 and it can get up to 31 mpg highway. It's also capable of towing up to 7,000lbs. Its towing capacity and convenient deep bed help it stand out in its class.
26. 2016 Ford Fusion Hybrid
The 2016 Ford Fusion Hybrid is the first but not the only hybrid on this list. With an MSRP of from $25,675 and offering nearly 40 mpg, it remains a comfortable, impressive performing car for its value.
25. 2016 Honda Civic
There are many Hondas on this list, as Honda is a reliable and affordable make with many models to suit nearly anybody's driving needs. The Honda Civic has been named the 2016 best compact car for its immediate and long-term costs. Kelley Blue Book gave this car 9.6 out of ten stars and after a test drive and review of its specs, it's easy to see why. It has horsepower, fuel efficiency and a price tag that won't squash your budget.
24. 2016 Acura TLX
The 2016 Acura TLX (from $31,695) is a car that proves to be worth every dollar. Standard features include smartphone app integration, dual-screen infotainment system, a proximity key, a rearview camera and an eight-speed transmission.
23. 2016 Chevrolet Impala
The 2016 Impala is a full-sized car capable of meeting any driver's needs. Reissued with a sharp new trim, the interior doesn't lack impressiveness either. Priced from $27,095, the Impala is considered one of the best large cars for the money.
22. 2016 Hyundai Tucson
The Tucson is a dependable compact SUV with superb fuel economy and low long-term costs. Though Hyundai may be seen as a budget brand, this spacious, sleek SUV lacks nothing SUVs with a much higher sticker price offer. Motor Trend rated this model 4/5 stars.
21. 2016 Honda Fit
The Honda Fit remains a subcompact car that can be bought for just under $16k. It performs well with 130 hp, and despite being a subcompact, it's highly reliable, gets more than 40 mpg and has a surprising spacious back seat and flexible cargo options. It is one of the least expensive cars on this list, but that is certainly not because it lacks good handling or innovative design and engineering.
20. 2016 Honda Odyssey
The 2016 Odyssey is possibly the best minivan available for its price and long-term costs. Priced from $29,550, the Odyssey can tow up to 3500 lbs. and has many help and fun standard features such as a built-in vacuum, large entertainment system and a 248-horsepower engine. If you're in need of a new minivan, the Odyssey's value is apparent from the first glance.
19. 2016 Audi A3
For an upscale small car, the Audi A3 is great value. It has an impressive powertrain and intuitive handling and can be purchased in sedan or convertible models. Its long-term costs are minimal and for a small, luxurious import, the price is right.
18. 2016 Lincoln MKX
If you're looking for a luxury, two-row SUV, the Lincoln MKX is the answer. It's a quiet drive with a sleek interior and formidable towing capacity. It can get up to 26 mpg highway and its long-term maintenance costs are among the lowest of any SUV in its class.
17. 2016 Honda HR-V
The 2016 Honda HR-V can be purchased for just under $20k. It's a practical subcompact SUV with up to 35 mpg on the highway and loads of cargo space. It's a comfortable and reliable ride that Kelley Blue Book has given 9.5/10 stars.
16. 2016 Ram 1500
If you prefer Dodge to Ford or Chevy, the 2016 Ram 1500 is the truck for you. With its MSRP at $26,145 and a towing capacity of up to 8,370 lbs, it is one of the best full-sized trucks on the market for its value, long term investment, and initial cost. It comes standard with a turbo-diesel engine and can get nearly 30 mpg highway, meeting every driver's needs.
15. 2016 Toyota Prius v
The Prius v is offered in three configurations. The base Prius v Two is by far the best wagon on the market for its value and price. At $26,675, it can reach 39 mpg on the highway and has a ton of cargo space. As a Toyota it also has long-term value retention for the day the kids have outgrown the wagon, or move out. It's on this list too because its price is low, not just for a hybrid, but also among gas-only competitors like the Subaru Crosstrek or Forester.
14. 2017 Chevrolet Cruze
2017 is going to be the first year that Chevy offers the Cruze in a four-door hatchback model. The base 2016 Chevy Cruze L, starting at $16,620, is equipped with a USB port, Bluetooth, and Apple CarPlay, a rearview camera, and a 7-inch touch-screen infotainment system, remarkable value for its price.
13. 2016 Lexus NX
Costing about $35k and getting over 30 mpg, the Lexus NX is a formidable luxury compact SUV. It comes with luxurious features as standard and has a powerful engine, producing up to 235 horsepower. If you're considering a luxury and compact SUV, this one should be on your list to test drive.
12. 2016 Honda Pilot
Kelley Blue Book gave the recently redesigned 2016 Honda Pilot a 9.6/10 rating, and it's easy to see why. Honda is a brand that retains long-term value and stands on its reputation for reliability. The Pilot can seat up to 8, tow up to 5000 lbs. and achieve up to 27 mpg highway. It's also tech- and family-friendly.
11. 2016 Nissan Murano
A popular two-row SUV, the Nissan Murano has a high-end cabin, responsive handling, and a price tag just under $30k. Like the Pilot, it has been recently redesigned and was rated 8.8/10 by US News' Best Cars team. It has comfortable seating, plenty of space and ample power. For anybody seeking a mid-sized SUV, the Murano is a top pick for many.
10. 2016 Toyota RAV4 Hybrid
Another Toyota on this list and the 2016 Toyota RAV4 Hybrid might just be the best hybrid SUV for your money. It can reach 34 mpg in the city, which will help any driver keep ownership costs low. It also has a roomy interior for friends and family.
9. 2016 Mazda MX-5 Miata
The Mazda MX-5 is the best sports car on this list. For what it costs ($24,915) the MX-5 is an affordable sports car for the thrill-seeking driver on a budget. It can get up to 36 mpg highway and is available in automatic and manual transmission configurations.
8. 2017 Nissan Versa Note
It may not be the most luxurious vehicle on this list however, the 2017 Nissan Versa is full of value, ideal for the urban-dwelling driver not looking to deplete their piggy bank. The base model is priced at $14,230 and it's capable of achieving 40 mpg and 109 hp. It's also worth noting that though it's a subcompact hatchback, it has sufficient cargo space for most people's needs and seating for up to five passengers.
7. 2017 Hyundai Accent
Hyundai has made a name for itself as an automaker producing reliable and affordable vehicles. The 2017 Accent is an example of this. A new value edition comes with Bluetooth capability, a sliding center armrest and storage box, rear disc brakes and 16-inch alloy wheels. Such features were available last year only as part of two option packages. It's available in a sedan or hatchback, six-speed manual or automatic transmission.
6. 2016/2017 Chevy Spark
The Chevy Spark is one of the least expensive cars on the market. The 2016 and 2017 designs are less econo-boxy and now utilize a CVT transmission, giving it more horsepower and efficiency. It's not the most spacious vehicle on this list but it has Chevy and GM's parts and support backing it, and it has been reviewed as an affordable and reliable option for car shoppers seeking value on a budget.
5. 2017 Mitsubishi Mirage
The 2017 Mirage, with an MSRP of $12,995, skipped a 2016 model year and is releasing the 2017 model with a new design. The mirage offers 9.5/10 star value at a super affordable price. If you're in the market for a small but exceptionally fuel efficient hatchback, consider taking a test drive at your closest Mitsubishi dealership.
4. 2017 Toyota Yaris
The 2017 Toyota Yaris sports the value of a Toyota and a price tag that doesn't exceed $16k. It is regarded by some as the most mature, well-equipped new car in its class that can be bought for such an affordable MSRP. The newest Yaris is a combination of Toyota's reliability and value retention based reputation and warranty and Mazda's responsive handling, sturdy transmission and stylish interior.
3. 2017 Chevrolet Malibu
Kelley Blue Book has given the Malibu a 9.4/10 rating. It's easy to understand why. A step above the Cruze in quality and performance, it has style with its sharp trim and up to 250 horsepower, leaving other family-targeted sedans in its dust. The interior has more rear legroom than previous models and it can come in a turbo and hybrid configuration. At $21,680, it's an attractive option to help a car buyer considering this type of sedan get the biggest bang for their buck.
2. 2016 Toyota Corolla
The 2016 Toyota Corolla, priced starting at $17,300 is feature-full and wallet-friendly. It comes with Bluetooth, navigation and an infotainment system. It also has driving tech advantages like automatic high beams, adaptive cruise control, lane-keeping assist and automated emergency braking. Its value is in its fuel economy too = it's one of the best on this list reaching up to 42 mpg highway.
1. 2016 Toyota Camry
The 2016 Toyota Camry has proven its value by ranking at the top, and often number one, on many automotive ratings lists. It ranked 1 out of 19 in midsize cars available on the market. It's also one of the safest cars on the road, achieving five stars in the overall NHTSA safety rating, the highest rating possible. It's fuel efficient with 5+ configurations possible and can reach up to 268 horsepower – not too shabby for the perfect everyday car. If quality, safety and ratings haven't made the Camry irresistible, consider the price: $23,070. And with low long-term costs and the likelihood of maintaining a high resale value, the Camry is an easy-in for one of the best value cars currently available.

1939 Audi Auto Union Type D - Photo by RECEPTOR 17

Potentially the most expensive car to ever go to auction at Christie's, the 1939 Audi Auto Union Type D was expected to sell for as much as $12 million. It was eventually acquired by Audi for an undisclosed price. There is so much history in the Auto Union Type D. To begin with, the car's design was produced by none other than Ferdinand Porsche. The rear-engine design delivered unpredictable oversteer and Porsche attempted to counter this with a swing half-axle suspension before following the Mercedes lead and going with a de Dion system. The twin-supercharger V-12 delivered amazing horsepower and was known to break the rear tires loose at 100 mph. Tire slippage was an issue addressed by another Porsche innovation, the limited-slip differential. All this technology was developed during a period of state-sponsored motor racing. The success of the Auto Union Type D was ended by the course of Germany and World War II. When the war was over several Auto Union team cars were found by invading Russian Army forces and taken as spoils of war. These cars were disassembled and studied by the Soviets until, in the 1980s, American car enthusiast Paul Karassik tracked down chassis number 19 and many Type D original parts. Karassik handed over the collection to noted restoration shop Crosthwaite and Gardiner and the Type D was restored to its original form. With a top speed in excess of 200 miles per hour and that thundering, whining V-12 behind the driver, there isn't another driving experience that can match the Auto Union Type D.

1983 Audi Sport quattro - Photo by NO DeCLouie TRC

The 1980s were famous for big hair, New Wave music, and most importantly, Group B rally racing. The wildly popular rally series featured some of the most highly developed racers to ever hit the dirt and snow. The Sport Quattro was a road-going derivative of the famous Group B Quattros that introduced all-wheel drive to rally racing. That means it enjoys a generous helping of nifty racing tricks: its shortened wheelbase and all-wheel drive grip give the Sport Quattro supernatural agility, the Kevlar body keeps weight down, and the huge turbocharger gives it superlative acceleration. In fact, despite its angular appearance, the Sport Quattro can muster a 0-60 mph time of well under 5 seconds, faster than many traditional supercars of the time. The one-two punch of the Sport Quattro and Group B Quattro firmly dismissed the notion that Audi was a tame automaker, vaulting the German company into the forefront of motorsports—particularly in the hands of Michèle Mouton, the most successful female rally driver of all time, and famed driver Walter Röhrl. The Quattros are so important to the company's heritage that they retired the capitalized form of the name; the all-wheel drive system named after the ur-Quattro is now officially called "quattro."

1989 Audi #4 Audi 90 quattro IMSA GTO - Photo by HD 90 Rickyboby

It's not every day you come upon a car like the Audi 90 quattro IMSA GTO. This is a car that was short-lived, revolutionary, and awesome. Born following the Group B rally era, when Audi decided it wanted to see what the quattro system could do on pavement, it was the first all-wheel-drive car to compete in IMSA. In the late 1980s the IMSA GT series was at its peak, and the cars of the GT class lacked many restrictions. The 90 quattro fit in perfectly as it was hardly a GT car; it wasnothing less than a bespoke race car. One look at its ultra-wide body -- possibly the widest ever built -- will tell you that before your eyes is nothing more than a carbon-fiber silhouette shell. Underneath you will find a full-race tube chassis. Sitting forward of the front axle is a 720-horsepower motor driving all four wheels. It is a monster in all regards; lightning quick, with more grip than most can put to the pavement. During its single season in the IMSA GT Camel Pro series, the Audi 90 won seven of the 13 races. Audi went on to race in DTM, where quattro technology continued to dominate.

1995 Audi RS 2 Avant - Photo by NO DeCLouie TRC

There's no sound quite like the bark of a turbocharged inline five-cylinder, an unusual engine configuration that Audi first perfected in the legendary Audi Sport quattro. In the RS2, an evolution of that engine sits behind a face dominated by mesh grille inserts, flanked by a brace of projector headlights, and topped off with the signature Audi interlinked rings. The RS2 Avant was the very first Audi to wear the RennSport name, and the wagon body style was intentionally chosen to show off the company's ability to produce a no-compromises vehicle that can blow the doors off many sports cars while comfortably conveying a family with a bunch of stuff from point A to point B. Most incredibly, its performance can shame a considerable number of newer high-performance cars, making it a legend in its own time and a fitting tribute to the Sport quattro's legacy.

2001 Audi RS 5 Avant - Photo by i r wil77

2003 Audi RS 6 - Photo by Regrozenah

2004 Audi No5 Audi Sport Japan Team Goh R8 - Photo by BadRiver

2004 Audi S4 - Photo by Chriscup172

2006 Audi #2 Audi Sport North America R8 - Photo by BadRiver

It takes an incredibly special car to be as dominant in its career as the Audi R8. In seven years of competition, the R8 won the 24 Hours of Le Mans a total of five times (and the car's engine, housed in corporate partner Bentley's Speed 8 LMP car, won an additional time), a track record that has helped Audi become the second most-winning Le Mans constructor of all time. What makes the R8 so special? To start, there's the immensely powerful 3.5-liter twin-turbocharged V8 amidships, providing more than 620 horsepower in a chassis that weighs far less than a ton. The other key to the R8's success was the foresighted engineering that went into its construction. In the heat of an endurance race, parts will fail, and on the R8 they were designed to be quickly accessed and replaced, a trait that would benefit the R8 over its career. In this livery, the #2 R8 saw success in ALMS racing in 2006, after it had retired from LMS racing in favor of the diesel-powered R10.

2006 Audi RS 4 - Photo by Pebb

Few cars have made as spectacular an introduction as the RS4 when it was revealed at a special ceremony in Audi's hometown of Ingolstadt. A bright yellow RS4 appeared at the top of an icy ski ramp and charged down to the bottom, dramatically spinning in circles in front of spectators in the snow with the 4.2-liter V8 howling. Then, nonchalantly, the RS4 turned around and headed back up the steep, slippery incline without any trouble whatsoever. That's the beauty of Audi's quattro all-wheel drive, which provides stupendous grip (and in this application, a rear-wheel bias) to complement the powerful engine fitted into the relatively compact sedan. Aggressively flared fenders, extra air intakes, and of course a more powerful engine tune separate it from the already high-performing S4 upon which it is based. Of course, you don't need to have a ski ramp with a crowd of screaming Audi fans egging you on to enjoy the RS4—it'll be happy to demonstrate its cornering prowess and substantial acceleration on any track you can throw at it.

2009 Audi RS 6 - Photo by The Snooty One

2010 Audi TT RS Coupé - Photo by ScufferQPD

The TT RS is emblematic of how upstart Audi has completely upended the "form follows function" mantra of the German competition. The TT took the world by storm with its unique style (dubbed "bauhaus" by the press) and performance credentials, and the new TT RS is all this and more. The turbocharged inline-five takes Audi back to its rally roots (the original Quattro Sport used the same configuration to decimate the competition in the 1980s). It's no retro tribute, however, as this all-wheel drive stunner is stuffed to the gills with modern engine tech like direct injection, and sports a cylinder head borrowed from the Lamborghini Gallardo. It's a total package that makes the coupe scoot: 60 mph is dispatched in an exotic 4.5 seconds with a distinctive snarl from the 2.5-liter motor. The first TT to wear the storied RS badge, the TT RS caries over several RS trademarks like the enormous oval twin exhaust tips and larger front intakes, which complement the sporty dimensions of the coupe. With handling worthy of any of Audi's RS models, the TT RS is most at home on a highly technical track.

2011 Audi No2 Audi Sport Team Joest R15++ TDI - Photo by SCS Skreamies

2011 Audi RS 3 Sportback - Photo by Vanna91

The newest member of the Audi RennSport line boasts the same 2.5-liter turbocharged direct-injection five-cylinder found in the TT-RS, propelling it from 0 to 60 in only 4.6 seconds.

2011 Audi RS 5 Coupé - Photo by evomunk

Designed to challenge the AMG- and M- offerings from those other German auto makers, the 2011 Audi RS5 is a tidy package of blistering performance and aggressive trim. Its high performance comes without reliance on tricks—just a 4.2 liter naturally aspirated V8 that manages around 450 hp. It's relatively thin on torque—317 foot-pounds, to be exact—but makes up for it with engine revs that top out north of 8,000 RPM. Audi's technical wizardry isn't just found under the hood—the RS5's wheel-selective toque-vectoring system, and crown-gear center differential mean the car can shift a tremendous amount of power to the front or rear wheels in an instant. The result is a powerful and grippy AWD; a car that's as comfortable on the tight turns of a race track as it is speeding along back roads on a Sunday drive.

2012 Audi #1 Audi Sport Team Joest R18 e-tron quattro - Photo by Zedzillaaa

The pioneering spirit of Audi is evident throughout this top competitor in endurance racing. Combining ultra-light weight, hybrid, and all-wheel-drive technology, the e-tron quattro is the pinnacle of race engineering. The one-piece carbon fiber monocoque provides safety, rigidity and lends to overall lightness. Energy is recouped and stored during braking then transferred to the front wheels, but only delivered when travelling at greater than 120km/h, preventing an unfair advantage in cornering. Powering the rear wheels is the reliable 3.7 liter V6 TDI engine utilizing a single turbo-charger. Together the hybrid system has brought the #1 three first place finishes in 2012, including a win at Le Mans. So far in 2013 WEC Season they have won at Spa and finished just behind their sister car the #2 at Silverstone. As a technology demonstrator the R-18 e-tron quattro continues to set the bar for what can be achieved.

2013 Audi R8 Coupé V10 plus 5.2 FSI quattro - Photo by BadRiver

Make no mistake: This is a race car in street dress. This top-spec R8 is ready to hit the track to demonstrate its superiority and remind any driver of its race-bred upbringing. If Audi's success on the racetracks of the world for nearly 100 years have escaped you, a few turns in this R8 will tell you all you need to know. The mid-engined FSI (Fuel Stratified Injection) 5.2-liter V10 delivers awe-inspiring horsepower and screams to an epic 8,700 RPM. Power is put to the wheels via Audi's legendary quattro all-wheel-drive system. Via continuously variable torque distribution, power is adjusted dynamically to the wheels with the most grip. The system is significantly rear-biased, making a drift or tail-happy wag possible, but only with severe coaxing. Above all, the quattro system is inspires utter confidence in the driver and will pull the R8 through the tightest corners with ease.

2013 Audi RS 4 Avant - Photo by Maciek1125

Take an RS 5 Coupe, add three doors, and what do you get? Quite obviously you get the most incredible performing estate car on the market, a car with enough thrill factor to make even the most prodigious family man smile at the thought of a trip to grandma's house. Even with 2.5 kids, the family dog, and a weekend's worth of snacks loaded up, the RS 4 Avant will blow the doors off of most anything it encounters short of a supercar. The rich and silky rasp of this 4.2-liter V8 as it approaches a vivacious 8,500 RPM redline is an audible wonder. This is a wagon that will eat M3s as it barks through each gear of its seven-speed, dual-clutch transmission. Sure, it's a wagon, but one look at the huge air intakes up front and its sweeping graceful form and distinctive RS 4 badging will attract attention from anyone who appreciates the notion of practicality being outmatched by performance.

2013 Audi RS 7 Sportback - Photo by TR1OS D1ABLOS

If you need a car that will rocket the family and a weekend's worth of gear from 0-60 MPH in less than four seconds the RS 7 Sportback is ready for the indulgence of your right foot. It's a five-door hatchback, of the highest order. The RS 7's twin-turbo V8 packs a punch that will tempt passing when others patiently wait for a better opportunity. More than 550 horsepower is ready to make any trip an exciting notion. Take the RS 7 out on the track and despite the fact it is no lightweight, handling is profound, delivering immense grip under the most rigorous cornering you can throw at it. Thank Audi's race proven quattro all-wheel-drive system for that perfectly balanced traction. Among grand touring sedans the Audi is a handsome choice for even the most discerning enthusiast.

2013 Audi Team Forza RS 7 Sportback - Photo by The Snooty One

2014 Audi #67 Rotek Racing S3 Saloon

Notable racer and Jalopnik contributor Robb Holland was the first American driver to compete in a full season of the British Touring Car Championship (BTCC). With the help of Nürburgring-based Rotek Racing, Holland fielded the #67 Audi S3 Saloon in last year's BTCC. Holland's goals for the season were humble, given each race would be the first time he had seen many of the BTCC's race tracks. Holland and Rotek placed in the top twenty more than once, fighting through unfortunate on-track incidents to earn some well-deserved points by the end of the season. For Forza fans, this BTCC racer is ready to relive its track time at Brand's Hatch, charging forward from any spot on the grid.

2014 Audi No2 Audi Team Joest R18 e-tron quattro - Photo by PJTierney

2014 Audi No45 Flying Lizard Motorsports R8 LMS ultra - Photo by BadRiver

2015 Audi RS 6 Avant - Photo by V Team SAKAL

If the local grocery store or soccer field is half a state away, the RS 6 Avant should be your car of choice. Why? Because the Avant can get a family of five and their gear from point A to point B at speeds that would only qualify as "absurd." Under its gorgeous composed form is a lightweight, mostly aluminum chassis. Beneath the hood is a twin-turbo V8 with enough juice to put this wagon in the supercar category. More than 500 horsepower and the accompanying torque put through Audi's proven AWD system give this wagon the tools to get the job done, whether it be on tarmac, the back roads, or any path set before it. Restyled for 2015, the RS 6 is fresher than ever and ready to blow your mind as well as the doors off most anything that comes within striking distance.

2015 Audi S1 - Photo by leopauldelr
The Wheeler Dealers' tips for spotting up-and-coming classic cars: TV stars Mike Brewer and Ant Anstead reveal what you should look out for
We catch up with the car-building duo ahead of their new TV series
Wheeler Dealers comes back onto our screens on New Year's Day
Mike and Ant tell us about the cars they look for when looking to make a profit
If you owned one of these in the past, look away now (as they've risen in value)
Collectible and classic cars are big business today.
If you're fortunate enough to own a rare Ferrari, a limited edition Lamborghini or an Aston Martin used in a Bond film you're guaranteed to be quids in.
But there are some cars that many of us have owned in the past that have now become unlikely collectibles worth a small fortune on today's market.
To highlight which cars these are, we drafted in the hosts of the biggest car restoration show on TV right now - Mike Brewer and Ant Anstead from Wheeler Dealers - to identify four-wheeled treasure troves wheels.
Wheeler Dealer recommendations: These are the five types of car Mike Brewer (left) and Ant Anstead (right) reckon you should be looking for if you want to invest in four wheels
But what type of vehicles do the pair look out for when trying to identify the cash cow cars worth investing their time in?
We caught up with Mike and Ant to let us in on a secret or two on finding profitable classic cars. Here are their five expert recommendations for 2018.
Ford Sierra Cosworths are now selling for six figures - this one pictured achieved more than £100,000 when it went under the hammer last month
1. Fast Fords are seriously fast money
The Wheeler Dealers: 'Capris, Escorts, Cosworths – you name it, all of them are making good money right now.
'Mainstream cars like the Mk1 Ford Escorts (at one time the biggest selling car in the UK) are now making big money in the classic car world.
'Even the humble 70's Ford Fiesta - one of the most popular cars on the road in its heyday - is now worth more than a new one.'
Series 1 Land Rovers (pictured) are big money these days, and now that production has ceased the value of all Defenders is on the rise
2. Cash in on the death of the Defender
The Wheeler Dealers: 'Series 1 Land Rovers are sought after as the factory wants to buy them back and restore them Wheeler Dealers style.
'It has now become a much sought-after classic as the company won't be making any more Land Rover Defenders, so naturally the earliest model will become a collector's piece and as they are 60 years of age, they are real vintage.
'Land Rover will buy them back and using a modern production line completely rebuild the car like new. They call it a rebirth and then sell them for nearly £100,000!'
TiM: The Defender isn't the only old model Jaguar Land Rover will purchase back to fully restore.
Series 1 Range Rovers and Jaguar E-Types are also in demand by the firm's new Classics department that now has new headquarters in Coventry.
Want a good condition Peugeot 205 GTI? Expect to pay in the region of £30,000 today
3. Hot hatches are on fire right now
The Wheeler Dealers: 'Think Mk1 VW Golf GTIs, Renault 5 GT Turbos and Peugeot 205 GTIs.
'If you're a child of the 80s and you lusted after a hot hatch, you've probably thought about buying one. The problem is, good examples are now worth a pretty penny.
'Back in the 80s they weren't seen as luxurious cars, they weren't lusted after, so they were used and abused meaning the numbers for a nice low miles one are very small.
'You've now got this big customer base of people that can afford to buy what they wanted as a child and not many of them out there.
'Mk 1 Golf GTIs and the right 205 GTIs are making really, really, big money.'
Find a red Quattro that looks like Gene Hunt's and you're onto a winner. But that's the case with any car that made it big on the big screen
4.'It looks like that one off the telly...'
The Wheeler Dealers: '[Ant] I did a show called 'For the Love of Cars' with the actor, Philip Glenister who plays Gene Hunt in Life on Mars, and his character drove an Audi Quattro. Now the Audi Quattro is just an average car in anyone's mind, but if you've got one and it's the same colour as Gene Hunt's off the TV it becomes more desirable because people love the show.
'That applies to everything else – let's face it, the reason why people want to buy an Aston Martin DB5 is because they want to be like James Bond.'
TiM: We've seen plenty of cars being sold that have genuine links to celebrities, TV shows and even music videos.
Does this Toyota Celica Supra look familiar to you? Probably not. But it was formerly driven by two-time 500cc GP motorcycle racer Barry Sheene. It went under the hammer earlier this year
5. If it has racing background it has value potential
The Wheeler Dealers: 'The value of cars is determined by their pedigree so if you have two of the exact same cars, for example two BMW M5s – one's a road car owned by a bank manager and one was a race car that has race history – the race car is going to be worth more because people are buying cars now because of the provenance.
'They're buying the story, who owned the car, what did that car do before. The dents and the scratches on the car become acceptable then.
'If you've got a car that has an interesting history, it's going to be way more valuable than just a normal road going car.
'And there will be hundreds of cars hidden in garages up and down the country that have this interesting race history that people just don't know about.'
TiM: You're unlikely to find a car raced by a driving legend in their heyday, but in order to make it to the elite classes they would have had to drive in a variety of lower level series, which is where bargains can be found.
Alternatively, if you've got a bursting bank account, you could consider this 1964 Ferrari 275 P - the last works Ferrari to win at Le Mans that's being predicted to sell for a world record fee in February.