CHINESE AGENDA TO CONTROL THE WESTERN PACIFIC BY 2030
Philippines offers eight bases to U.S. under new military deal
The Philippines has offered the United States eight bases where it can build facilities to store equipment and supplies under a new security deal, a military spokesman said on Wednesday, amid rising tension with China over the South China Sea.
U.S. soldiers aboard an amphibious armoured vehicle watch as Philippine marine troops run during assault exercises in joint drills aimed at enhancing cooperation between the allies at a Philippine Naval base San Antonio, Zambales October 9, 2015.
Last year, the Philippines and the United States signed the Enhanced Defence Cooperation Agreement (EDCA) granting Washington increased military presence in its former colony, rotating ships and planes for humanitarian and maritime security operations.
"The list has been prepared many months ago when we had earlier discussions," Colonel Restituto Padilla told reporters, saying five military airfields, two naval bases and a jungle training camp were offered to the United States.
"These are still subject for approval and we're going to hold final discussions about these areas."
Three of these bases are on the main island of Luzon in the northern Philippines, including Clark airfield, a former U.S. air force base, and two are on the western island of Palawan, near the South China Sea.
The Americans are also seeking access to three civilian seaports and airfields on Luzon, including Subic Bay, a former U.S. Navy base, a senior defense official told Reuters.
Last year, more than 100 U.S. Navy ships docked in Subic and two advanced nuclear-powered stealth submarines made visits in the first two weeks of this year.
"Subic is important to the Americans because it is one of the few areas in the country where they can actually dock safely," said a defense official, who declined to be named because he is not authorized to speak to the press.
In Washington, Defence Secretary Voltaire Gazmin said security cooperation with the U.S. had become more intertwined amid increasing tension over the South China Sea.
The Philippines has filed a protest against China's test flights from an artificial island in the South China Sea, a foreign ministry spokesman said, describing the actions as "provocative" and a violation of an existing informal code.
New activity at Pyongyang's long-range missile plant
Every year more than $5 trillion of world trade is shipped through the South China Sea, believed to have huge deposits of oil and gas, which China claims almost entirely. Brunei, Malaysia, the Philippines, Taiwan and Vietnam have rival claims.
China's official Xinhua news agency, in an English-language commentary, said the EDCA would only escalate tension and "could push the situation to the brink of war".
"The deal is groundless because China, which sticks to a defensive defense policy, has never coerced any country on the South China Sea issue," it said.
The U.S. military is moving into these 5 bases in the Philippines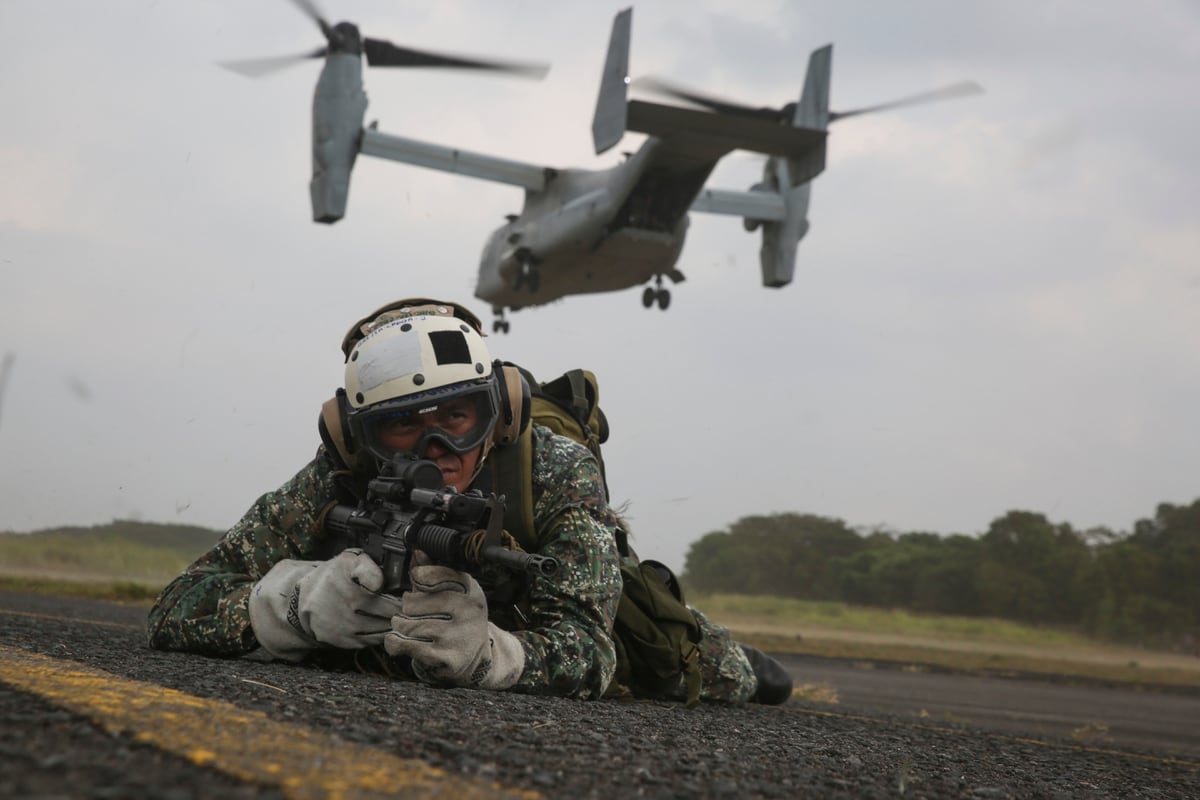 A Philippine Marine posts security after fast-roping out of an MV-22B Osprey tiltrotor aircraft Jan. 22 at Basa Air Field. Fast-roping is just one of the multiple training events conducted during Aviation Assault Support Exercise 15.1. AASE expands and promotes cooperative training opportunities with the Armed Forces of the Philippines to enhance core skill proficiency and to increase operational readiness. The Philippine Marines are with various units and the U.S. Marines are with 3rd Battalion, 3rd Marine Regiment currently assigned to 3rd Marine Division, III Marine Expeditionary Force under the unit deployment program. (U.S. Marine Corps photo by Lance Cpl. Ryan C. Mains/Released).
A new agreement between the United States and the Philippines clears the way for a new permanent American military presence across five bases that will support rotational deployments near the contested South China Sea.
The bases include:
Antonio Bautista Air Base. Located near the capital of the island province of Palawan, which is strategically located near the contested Spratly Islands in the South China Sea.
Basa Air Base. Located about 40 miles northwest of the Philippines' capital, Manila, the air base was originally constructed by the U.S. Army Air Corps before the Second World War.
Fort Magsaysay. Located on the northern Island of Luzon, Fort Magsaysay is the largest military installation in the Philippines, and is one of the primary training areas of the Philippine Army.
Lumbia Air Base. Located on the southern island of Mindanao, the air base is connected to a civilian airport. Local media reports say construction of a new U.S. facility will begin soon.
Mactan-Benito Ebuen Air Base. Located on Mactan Island of the coast of Cebu in the central Philippines. It was originally built by the U.S. Air Force before the American pullout in the early 1990s.
The U.S. will be setting up "permanent logistics facilities to support rotational deployments," said one defense official familiar with the agreement. The Pentagon is likely to invest heavily on construction projects to enhance capacity at those five bases.
The agreement was finalized Friday.
The rotational presence could, in effect, leave U.S. military assets and personnel on the ground in the Philippines for long periods if the missions are approved by the government in Manila.
The U.S. military presence in the Philippines, a former American colony, was once fiercely opposed by many Filipinos, partly because of notorious rowdy behavior and misconduct that was common among troops during the Vietnam era when the Philippines offered war fighters a respite from the combat zone. That led to the complete withdrawal of U.S. forces in the early 1990s.
But the Filipino government has recently sought new support from the United States as China has grown more aggressive in asserting territorial claims and conducting military-style operations near Filipino shores.
The list of bases surprised many analysts who expected it to include some of the former U.S. military outposts such as Naval Station Subic Bay and Naval Air Station Cubi Point, both strategically located on the northwest coast, or Clark Air Base near Manila. Those facilities were a backbone of logistics support during the Vietnam War.
China has stepped up its military activity in the region by claiming small uninhabited islands and even building new ones in the South China Sea off the western shores of the Philippines.
It's likely that the American presence there will grow slowly because China's activities have threatened the stability of the region, which includes vital trade routes for global economy.
"I suspect that it will ramp up slowly," said Jan van Tol, a retired U.S. Navy captain and senior fellow at the Center for Strategic and Budgetary Assessments in Washington. "A suddenly much larger U.S. presence, even if just a rotational presence, that can be seen, certainty in Beijing, that this is a ratcheting up of a U.S.-Chinese competition in the South China Sea."
Van Tol noted the Antonio Bautista Air Base on Palawan is very close to the Spratly Islands where China has made its controversial territorial claims. "That puts them much closer to the scene where the Chinese are using what we consider to be illegitimate activities," he said.
US, Philippines increase number of joint military activities
0
A U.S. Marine provides simulated cover fire on May 9, 2018, during an amphibious exercise at Naval Station Leovigildo Gantioqui, Philippines, as part of Exercise Balikatan 2018. (MC1 Nardel Gervacio/Navy))
MANILA, Philippines — The Philippine military said Friday its joint defense and security activities with U.S. forces, including annual combat exercises, will increase next year in a show of the treaty allies' continuing robust relations.
Top U.S. and Philippine military officials agreed to increase the number ofjoint security activities next year to 281 in areas that include counterterrorism, maritime security and humanitarian aid. There are 261 such joint activities this year, military spokesman Col. Noel Detoyato said.
Philippine military chief Gen. Carlito Galvez and Adm. Philip Davidson, the U.S. Indo-Pacific commander, led an annual meeting of the allied forces at the military headquarters in metropolitan Manila on Thursday.
U.S. military assets, mostly special operations forces, continue to aid Philippine forces in hunting down ISIS. Rodrigo Duterte vowed to end many of the military's combat drills with the U.S. military and the presence of American troops in the southern Philippines when he took office in 2016, while working to revive strained ties with China.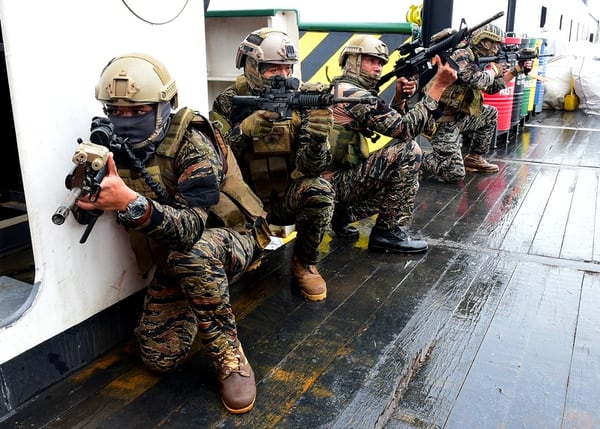 Philippine Navy sailors participate in a visit, board, search, and seizure practical scenario training Sept. 4, 2018, during Southeast Asia Cooperation and Training (SEACAT) 2018 in Manila, Philippines. This is the 17th annual SEACAT exercise and includes participants from the U.S., Brunei, Bangladesh, Thailand, Philippines, Singapore, Vietnam, Malaysia and Indonesia. (MC1 Micah Blechner/Navy)
The U.S. military presence in the south and joint drills, however, have continued. About 150 to 200 American troops are providing non-combat assistance to Filipino troops battling Muslim militants. China has expressed concern in the past over joint military exercises near the South China Sea, where it's been locked in territorial disputes with the Philippines, Vietnam, Brunei, Malaysia and Taiwan for decades.
"It's a bilateral issue between the Philippines and U.S.," Chinese Ambassador Zhao Jianhua said in Manila when asked to comment on the increased Philippine-US military activities. "What we hope is that the military relations between those two countries will contribute to the peace and stability of this region."
Zhao opposed the flight early this week of two nuclear-capable U.S. B-52 bombers over the strategic waterway, where U.S. ships have also sailed close to Chinese man-made islands to promote freedom of navigation in a region where Washington has repeatedly protested China's assertive actions to fortify its claims.
"Of course we are concerned ... it's a strategic bomber, it's also far away from the U.S.," Zhao told reporters. "I think the general relative peace and stability of the region do not require the flight of that kind of plane."
The announcement of the five bases comes almost two years after President Obama visited the Philippines in 2014 and signed a new 10-year agreement with the former U.S colony. The future U.S. activity in the Philippines may include Marine Corps units rotating through the country like the ongoing mission in Darwin, Australia.
It's a clear signal that the Americans will stay here, and in the region, for a long time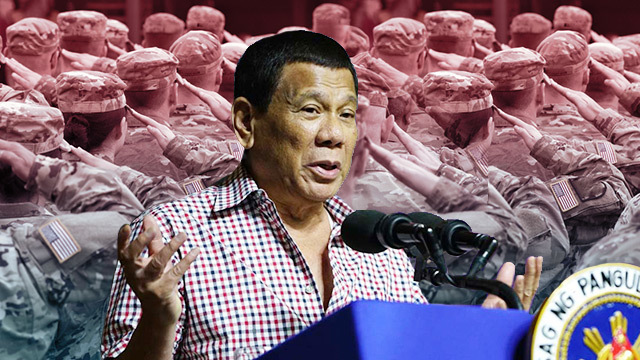 The United States has gained a forward base for its Pacific Air Force in the Philippines despite President Rodrigo Duterte's rhetoric against the country's oldest security ally and former colonial master and his pivot to China.
In mid-January, US Air Force F-16 "Fighting Falcon" fighter planes deployed from a base in South Korea landed at the Cesar Basa Air Base in Pampanga in a little-known military exercise known as the Bilateral Air Contingent Exchange-Philippines. This was meant to test the planes' interoperability with the Philippine Air Force's newly acquired FA-50s trainer jets.
Following that exercise, Washington can now rotate its air assets – fighters, transport, surveillance and refueling planes and perhaps bombers – in a strategic air base in northern Philippines, just minutes away from a potential flashpoint in the region: the Taiwan Straits and the South China Sea.
The forward deployment of US air assets in the Philippines is important in light of the increasing tension between Washington and Beijing in the disputed South China Sea, a strategic waterway where about $3 trillion of seaborne goods pass every year and where China has constructed man-made islands and begun installing military structures, including possible missile sites.
The United States Air Force has long been preparing for a return to Southeast Asia nearly 2 decades ago after the Pentagon noticed an uptick in Chinese activities in the region in the mid-1990s.
Chinese incursions increased after Washington abandoned one of its largest overseas air bases in the Philippines.
The US 13th Air Force used to be based in Clark Air Base in Pampanga, just a spitting distance from where it has rebuilt a logistics hub for its forward operations in Basa Air Base, but a Philippine Senate vote in September 1991 kicked them out of the base and nearby Subic Naval Base in Olongapo City.
The Americans left Clark Air Base in a big mess, buried by lahar from the eruption of Mount Pinatubo in June 1991. But they returned to their former home in early 2000, when the Philippines and the US agreed to sign the 1998 Visiting Forces Agreement (VFA), which allows American troops to come back for training and exercises in the country. (READ: Duterte wants VFA scrapped, but will 'wait' for Trump)
War on terror
The need for a forward base in the Philippines was further reinforced after the US launched a war on terror following the deadly September 11 attack in New York and Washington in 2001.
US planes needed to refuel in several airfields in the Philippines from their bases in Okinawa and Diego Garcia in the Indian Ocean. Butch Abad, a former congressman and budget secretary in the Aquino administration, used to tell stories about people in the Philippines' northernmost tip of Batanes waking up to US fighter planes landing at Basco airport in the dead of the night. Noisy helicopters would hover above villages to provide light and guide the fighters landing and taking off after refuelling.
Clark, as well as the airports in Mactan in the central island province of Cebu, were also used as refuelling posts despite the absence of a clear military agreement allowing such activities at the time. The VFA was vague on these pit stops by US planes during that period,
A study by the Rand Corporation in 2002 further argued for the need for US Air Force presence in Southeast Asia. Although the US has access to Singapore, the place is so small that when a military aircraft takes off, it would in no moment already be flying over Malaysian airspace.
Thus, the Philippines was chosen as a potential host and the Rand study even proposed a "rent-a-rock" arrangement – leasing under-utilized airfields in the country.
But US-Philippines relations soured after then-president Gloria Macapagal Arroyo pulled out a 50-member Filipino peacekeeping force in Iraq in 2004 following the kidnapping of a Filipino truck driver in Fallujah. It was a complete turnaround from when former US president George Bush designated the Philippines as a major non-NATO ally in 2003 during a visit to Manila.
Aquino's time
The election of Benigno Aquino III in 2010 gave the Americans an opportunity to fulfil what it failed to do during the Arroyo administration: seek a foothold in the Philippines.
China's aggressive activities in the Reed Bank and later in Scarborough Shoal provided the Americans a big push to strengthen its alliance with Filipinos.
In 2014, both countries signed the Enhanced Defense Cooperation Agreement (EDCA) that allows US forces access to Philippine military bases and build logistics hub for humanitarian assistance as well as other forms of military cooperation.
Even before EDCA was signed, US surveillance planes – P3C Orion and P8 Poseidon – were already deployed from time to time in Clark to patrol the South China Sea. Years later, at the height of the Marawi siege in 2017, the planes would fly from Cebu to monitor and provide technical intelligence to the Philippine military.
A year later, 5 local bases were identified as initial areas where the US forces are allowed access. At least 4 of these locations are air force bases – Cesar Basa Air Base in Pampanga; Benito Ebuen Air Base in Mactan, Cebu; Antonio Bautista Air Base in Palawan; and the old Lumbia airport in Cagayan de Oro, which is now a military base.
The 5th location is an army training base in Fort Magsaysay in Laur, Nueva Ecija.
Duterte's rhetoric
Indeed, even before Duterte was elected into office, the US Pacific Air Force organized in April 2016 the Bilateral Air Continent – Philippines, using Clark Air Base as a temporary base, to "help build the capacity of the Philippine Air Force in order to address local and regional security concerns."
In addition to promoting interoperability and increasing joint training, the small contingent would also boost "air and maritime situational awareness to ensure safety for military and civilian activities in international waters and airspace," according to the US Air Force.
And so barely a year after the US began construction of its logistics hub in April 2018 and other facilities inside Base Air Base and the Philippines completed repairs of its dilapidated airstrip in Basa, US fighter planes landed at its new home, a clear signal that Washington will remain in the region, and in the Philippines, for a long time .
US joins Australia in planning to build a new military base on Manus Island to ward off Chinese influence in the Pacific
Australia is planning to build a new military base on Papua New Guinean island

U.S. Vice President Mike Pence announced American help in military project

Manus Island development is set to escalate geopolitical tensions with China
The United States has joined Australia in planning to build a new military base in Papua New Guinea to ward off Chinese influence in the Pacific.
The announcement from U.S. Vice President Mike Pence, at the Asia Pacific Economic Co-operation forum in Port Moresby, has occurred four months after former Australian prime minister Malcolm Turnbull floated the idea with PNG.
Under the deal, the United States will partner with Australia to redevelop the Lombrum Naval Base on Manus Island, which is also home to asylum seekers.
The United States has joined Australia in planning to build a new military base in Papua New Guinea to ward off Chinese influence in the Pacific (pictured is a map of Manus Island)
U.S. Vice President Mike Pence (pictured at the Asia Pacific Economic Co-operation forum in Port Moresby) announced the Manus Island idea four months after Malcolm Turnbull floated it
'We will work with these nations to protect the sovereignty and maritime rights of Pacific islands as well,' Mr Pence told the APEC summit.
'And you can be confident, the U.S. will continue to uphold the freedom of the seas and the skies.'
The deal, announced at the APEC summit on Saturday, is set to heighten geopolitical tensions with China, which is also Australia's biggest two-way trading partner.
The U.S., Australia's biggest defence ally, has been engaged in a long-running dispute with China over maritime routes in the South China Sea.
Under the deal, the United States will partner with Australia to redevelop the Lombrum Naval Base on Manus Island (pictured), which is also home to asylum seekers
Washington is also concerned Beijing may use its increased influence, as a provider of foreign aid to poorer Pacific nations, to secure access to infrastructure that could be used for military purposes, including deep-water ports and wharfs.
A Chinese presence on Manus Island could also hamper the American military's ability to navigate the Pacific, particularly if China has close access to American bases at Guam.

Australian Prime Minister Scott Morrison earlier this month announced his government would fund the redevelopment of the Manus Island naval base with PNG's support.
Australia ran the base until PNG gained independence in 1975.
Prime Minister Scott Morrison (pictured in Port Moresby) earlier this month announced his government would fund the redevelopment of the Manus Island naval base with PNG's support
Six weeks before he was overthrown as PM, Malcolm Turnbull discussed with this PNG counterpart Peter O'Neill the idea of re-developing the Lombrum Naval Base on Manus Island
Manus Island was also a major U.S. naval station during World War II, playing a key role in Washington's Pacific strategy against Japan.
Manus Island is PNG's smallest province with a population of about 50,000 people.
PNG's navy is made up largely of patrol boats, mostly donated by Australia, and landing craft.
In July, six weeks before he was brought down by a second Liberal Party leadership challenge, former prime minister Malcolm Turnbull discussed with his then PNG counterpart Peter O'Neill the idea of re-developing the Lombrum Naval Base on Manus Island.
The political leaders met in Brisbane on July 11, with The Australian learning Mr O'Neill was 'very interested' in the idea and had even put his support in writing.
The base, run by Australia for 25 years until PNG gained independence in 1975, would be capable of hosting Australian and American warships on Manus Island
The base, run by Australia for 25 years until PNG gained independence in 1975, would be capable of hosting Australian and American warships on Manus Island, where asylum seekers are sent for processing.
The Australian Defence Force is understood to be conducting a scoping study of the area, with News Corp Australia reporting the former Turnbull government had wanted a deal signed with PNG before this month's Asia-Pacific Economic Co-operation summit, which is being held in Port Moresby.
Chinese President Xi Jinping also hosted a special APEC conference for regional leaders in the PNG capital.
Chinese President Xi Jinping (pictured this week in Manila) also hosted a special APEC conference for regional leaders in the PNG capital
The idea of stationing Australian and American naval warships in the area is set to infuriate China, with Beijing in 2011 expressing diplomatic concern about U.S. marines being stationed in Darwin.
While China is Australia's biggest two-way trading partner, Australia is suspicious about Chinese espionage activity, banning telecommunications firm Huawei from bidding for the National Broadband Network.
In July, Mr Turnbull signed a deal for Australia to fund a $136 million internet cable between Australia, PNG and the Solomon Islands in a bid to stop Huawei from doing so.